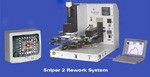 Sniper II Split Vision Rework SMD-7000

The Sniper II includes a 16 profile, 16 segment controller, which is easily programmed using an integral key pad. Alternatively the system can be controlled via an RS232 connection with Windows R 95/98 software.
Computer Display Windows (CDW) - Profile Pattern Recipes (PPR) are easily created, stored, recalled, and edited using a GDW.
Computer Operation - Temperature profile traced in "Real Time".
Bottom Heat Control - The bottom heater is controlled by the top reflow controller.
Data Logging - Automatically 'Data Logged" using Adobe PDF graphical images.
Thermal Tracer - APE Thermal Tracer tracks the actual board temperatures during the rework.